Nigerian Shipowners may soon heave a sigh of relief as the Federal Government may have unveiled a new road map that may see them actualizing their dreams of becoming ship owners under the Cabotage Vessel Financing Fund, CBFF,sooner than later.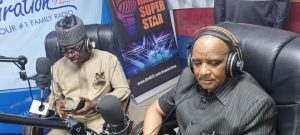 Speaking on a Live program on Inspiration 92.3Fm Lagos, Shipping on Radio, last Thursday, Director General of the Nigerian Maritime Administration and Safety Agency, Dr Bashir Jamoh revealed that nine primary lending institutions (banks) were listed for the disbursement of the Cabotage Vessels Financing Fund , CVFF by the Governing Board of NIMASA, and been forwarded to the Minister of Transportation. But Jamoh said the Agency is trying to avoid the previous pitfalls experienced under the Ship Building and Acquisition Fund when beneficiaries diverted the funds to purposes other than the reasons they were meant.
He said NIMASA in collaboration with its supervisory Ministry, the Federal Ministry of Transportation are exploring other options to ensure that the main objectives of the CVFF are realized. Said Jamoh: " If you can recollect, last year we advertised for expression of interest as provided by the guidelines of the Cabotage Vessel Financing Funds and after the advert , about 12 banks indicated their interest and we shortlisted 9.
As the law provides, we forwarded it to the Honorable Minister of Transportation. The delay we are having now is to avoid the mistakes made with the disbursement of the Shipbuilding and Acquisition Fund where beneficiaries collected the funds and refused to pay…every Minister is scared and afraid to be part of that failure.
What every Minister of Transportation wants to do is to make sure that before disbursing these funds, let it not turn out to be another national cake , just like was the case with the moribund Ship Acquisition Fund. New ideas are now on the table as to how best to avoid this pitfall.
We have approached the Bank of Industry and commenced discussions on to use this as seed money, get additional funding and by this get as many beneficiaries as possible on board the scheme. He continued: " We are also into some research as to what types of vessels or boats we need for inland Waterways so we could maximize our Waterways .
The issue of these small crafts having constant accidents is also giving us worries" he says. And why Kenya? The NIMASA helmsman disclosed that the Minister of Transportation has agreed that some Ministry (Transportation) of officials will travel to Kenya this month because the biggest ship building Industry domain are building a ship yard in Kenya that will address the kind of issues we are facing. So, they ( Ministry) want us to go and see the kind of shipyard they are building for the Kenyan Government. If we see it and it is in line with our thoughts, then we would now come and replicate same here", Jamoh said .
He said Nigerian indigenous Shipowners would be part of the trip and decisions taken would be consensual. He insisted stakeholders would be part of the plan. " But what I am telling you is just a proposal, the stakeholders will be carried along and they will be able to see what we are doing and everything will be transparent ".