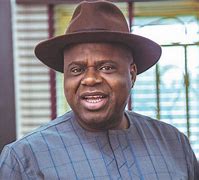 Bayelsa State Governor, Senator Douye Diri, has revealed how the virtue of love towards all practised by his mother, late Mrs. Rose Diri, shaped his political philosophy of seeing nobody as his enemy.
Senator Diri disclosed this on Saturday at Ayamasa, his maternal hometown in Ekeremor Local Government Area of the state, during the eighth-year wreath-laying ceremony in honour of his mom.
Madam Diri was born on May 15, 1939 and died on her birthday 74 years later on May 15, 2013.
The governor in a statement by his Chief Press Secretary, Mr. Daniel Alabrah, said his late mother was the perfect examplar of the woman and wife captured in Proverbs 31 of the Holy Bible.
He described his mother as a woman that accommodated everyone that came across her while alive and never had any enemy.
According to him, her lifestyle of living without enmity and grudge towards anyone impacted his life greatly.
He said: "My mother had no enemies. That is why as governor, I do not have any enemies because I learnt that from her.
"She was a woman that I can aptly say was described in Proverbs 31. Our mother was mother to everybody.
"From here in Ayamasa, she got married and moved with her husband to Sampou. Even in Sampou, she was mother to everybody. Those who came across her can testify that she took everybody that she saw as my friend like her own children.
"For those of us she left behind, the only thing I would say is to continue to emulate the standard she left for us."
Senator Diri, who bemoaned politics of bitterness and blackmail, expressed the hope that his emergence as governor would change the narrative and heal political wounds in the state.
"Let us not pull anybody down. Those that have served have done very well and served meritoriously. Let us give them the honour. Those of us serving should know that history would always be there to look back at our service.
"We should move away from abusing each other and name calling to a friendly and brotherly disposition. A disposition of service to our people, service to Bayelsans, the Ijaw nation and Nigeria at large."
Diri expressed appreciation on behalf of his siblings to his political associates, appointees and the chiefs and people of Tarakiri Kingdom for accompanying him to honour his mother.
Highpoints of the ceremony were the laying of wreath by the governor and his elder brother, Friday Young, and prayer for the departed soul conducted by Rev. Godspower Asingba.