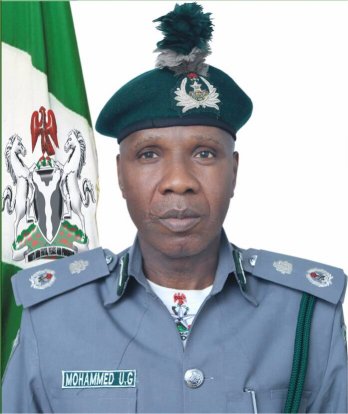 Anti-smuggling operations of the Federal Operations Unit (FOU) of the Nigeria Customs Service (NSC), Ikeja, Lagos, rose to a crescendo in the month of November when the unit intercepted contraband goods worth N2.5billion.
The smuggled items include 64 assorted vehicles of two bullet-proof Lexus Jeep, one bullet proof Toyota Land Cruiser, nine Toyota Hilux, eight Toyota Hilux buses, 26 Toyota Corolla, nine Land Cruiser Jeep. Others include five Toyota Camry, one Land Rover, one Nissan Sentra, one Pajero Jeep, one Sienna 2015 model and one Lexus RX 350.
The seizures, all 2017 models, were intercepted through intelligence and have a combined Duty Paid Value of N1.4 billion.
According to the Customs Area Controller, Mohammed U. G, who stated this at a Press Briefing, 57 of the vehicles were evacuated along the Omole Estate, Ojodu and Lekki Phase 1, while seven of them were intercepted along Ijebu Ode expressway.
The other seized items are 13, 333 bags of parboiled rice of 50 kg valued at N95, 564, 277.5; 1, 390 cartons of frozen poultry products; 835 jerrycans of vegetable oil, 15 parcels of Indian Hemp, 1, 101 pieces of used tyres and 205 bales of used clothing.
Also, about 17 20ft containers loaded with wood have been detained by the agency because they could not meet required guidelines for such export; while one 20ft container carrying 385 cartons of Tiffany Crunch biscuits, 2, 300 cartons of chocolates and Toffee sweets as against Engine Block declared in the SGD.
Concerning the exotic cars, Comptroller Mohammed stated that, so far, no one has claimed ownership of them in their custody. He noted that desperate economic saboteurs have devised a new way of trying to beat customs to their game by using locally produced sacks of rice to rebag foreign produced ones to deceive the anti-smuggling agency.
While showing journalists round the two warehouses where seized goods are kept, the comptroller explained that for seizures to be released to their owners, appropriate duties will have to be paid. In one of the trucks, cartons of maggi cubes were used to conceal 280 bags of rice of 50kg along the Agbara-Atan road in Ogun State.
He further explained that importing vegetable oil in its crude form was allowed as local refining would generate employment for the youth, rice farmers and millers.  The CAC said as the Yuletide season draws nearer, smugglers are changing their tactics to manoeuvre the system and get away with their crime. He maintained that with the level of intelligence available to the customs, the smugglers will continue to meet their Waterloo.
He called on such unscrupulous persons to redirect their resources and energy to local production of goods and services that will help the Nigerian economy to grow. Already, five suspects have been detained in connection with the seizures. He thanked the Comptroller General of the NCS, Col. Hameed Ali (rtd) and his team for the continued support in logistics and motivation without which the feat could not be achieved.