When a leader encourages the culture of impunity, the society is lost and it makes the work harder for the rest of us – Wole Soyinka.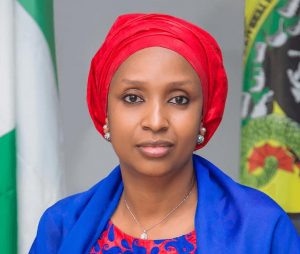 Industry watchers were shocked when in July 2016, Ms Hadiza Bala Usman was named Managing Director of the Nigerian Ports Authority (NPA). She thus became the first woman in the history of the agency to be appointed into that exalted office.
Her appointment was a replacement for Abdullahi Habib whose second coming was aborted following irreconcilable differences with his Transportation Minister, Rotimi Amaechi. Habib, who was sacked at the twilight of the Jonathan administration, was recalled to his former job six months after Mallam Ado Bayero took over from him.
Hadiza's appointment was received with mixed feelings, especially by stakeholders who wondered how she would cope with her new assignment, more so since she had little or no experience in managing such a highly technical agency like the NPA.
A dig into her past revealed that she had a brief stint at the Bureau of Public Enterprise (BPE) under Nasir El Rufai and until her appointment, served under Rt. Hon Rotimi Amaechi, who was the Director General of President Muhammad Buhari's Campaign Organisation. However, prior to her stint at the Buhari Campaign Organization, Hadiza played a prominent role in the Bring Back Our Girls campaign that followed the abduction of over 150 schoolgirls from Chibok, a community in Borno State.
Sources told this magazine that Amaechi had taken a special interest in her, given her commitment and dedication to tasks, as a critical resource person during the 2015 electioneering that lead to the emergence of Muhammad Buhari as President.
With her appointment to NPA's apex office, Hadiza came with a great vision to change the narrative at the agency. She expressed discomfort with the public perception of the organization, which was seen much more as a cash cow rather than a critical agency of economic development. She consulted widely with stakeholders on how to turn the fortunes of the NPA around for the better. Brilliant ideas were thrown up by stakeholders who helped her in building a road map for a new NPA.
Unfortunately for Hadiza, the entire executive management team that joined her at Marina House comprised of politicians, even though they were all professionals in their own right. Industry watchers saw her as a smart, brilliant and intelligent woman who deserved to be supported. However, these attributes could hardly make up for her total lack of experience and technical know-how for such a complex and evolving industry.
Therefore, it took only a couple of months for power, fame and money that came with her office to diminish her lofty dreams for the NPA. Hadiza's major undoing was her unbridled arrogance and pride, and the penchant to do things on her own, irrespective of extant laws and due process. Before long, she had started to step on toes. Her larger-than-life posturing also pitched her against captains of industry and some revered heavyweights in the polity. Her first victims were her main benefactor and Minister of Transportation, Rt. Hon. Rotimi Amaechi and the entire staff of the Ministry of Transportation.
Hadiza's Many Sins
Corruption – A breakdown of contracts she awarded between 2016 and 2020 revealed an unprecedented regime of contract splitting running into billions of naira. Besides, there were several infractions in the award of contracts, most of which were far beyond her threshold and that of her supervising Ministry. The Public Procurement Act of 2007 is very clear on such infractions attracting a five-year jail term without an option of a fine. Hadiza was also involved in cancelling stevedoring contacts and awarding the same to herself and her acolytes.
Corporate Social Responsibility (CSR) projects that were supposed to serve as palliatives for communities impacted by port operations were turned into a jamboree and an avenue for the indiscriminate award of inflated contracts across states. Palliatives intended to assist Internally Displaced Persons (IDPs) were hijacked for contracts awards at exorbitant cost to her cronies as could be verified by the Bills of Quantities presented during a 2019 audit query by the Auditor General of the Federation. Most of the contracts were awarded to her elder brother, Attahiru Bala Usman through many phony companies and other fronts.
Generally, under her watch, between 2016 and 2020, over-invoicing and inflation of contacts and non-compliance with provisions of the Public Procurement Act and extant regulations on pricing became the standard.
Maladministration: Under her administration, members of the National Youths Service Corps (NYSC) were employed at the NPA which is against the law and service rules. Besides, fresh graduates were employed and promoted to grade levels in contravention of NPA's conditions of service. Hadiza was also found to have misled the Board into approving promotions for selected officers over their seniors in contravention of the Federal Government circular FC. 6243/S.I/vol x vill/5 of 28th May 2010 and a Presidential Directive with reference FCSC/CHMN/CL/17/VSI.I/36 of Oct. 22, 2013. Hadiza was also found to have deceived the Board into the retention of staff on contract without fulfilment of the prerequisites for that kind of appointment under the conditions of service and extant civil service rules.
High-handedness: Auditors were randomly transferred for simply questioning and querying supplies being made by contractors, particularly on quality and conformity with approved standards by the Parastatal Tenders Board (PTB) as reflected in Letters of Awards of Contracts.
Hadiza and the DSS.
During the search for an official residence for Hadiza Bala Usman, the NPA came across a certain property in Ikoyi where former Director General of the Nigerian Intelligence Agency (NIA), Kayode Are lived peacefully with his family. Taking interest in the property, Hadiza took the matter up with her connections at the Villa and got Kayode Are kicked out. The DSS kicked claiming it was their safe house, but investigations revealed that the Director General actually lived there. Kayode Are was thrown out and the property was renovated and furnished for her to occupy. The current Director General of the Department of State Services (DSS), Mr Yusuf Bichi has not forgiven her ever since.
Hadiza vs Alhaji Munir Jafaru
Following the vacancy created in the position of the Emir of Zazzau after the death of the Emir, Munir Jaafaru, former Director General of the Nigerian Maritime Administration and Safety Agency (NIMASA), was one of the top contenders for the stool. It was believed that Hadiza conspired with Governor Nasir El Rufai to stack obstacles against him. She was said to have funded the campaign of the incumbent Emir. Even the likes of late Abba Kyari, former Chief of Staff to President Muhammadu Buhari, late Alhaji Isa Funtua and Mamman Daura, were said to have been served a bitter dose of her arrogance and disregard for constituted authority at one time or the other.
With these monumental infractions, coupled with her unbridled disrespect for her benefactor, Rt. Hon Chibuike Amaechi, the Minister of Transportation, who singlehandedly offered her this lifeline; it was obvious that the end of the road for her inglorious reign of terror at Marina House was just about a matter of time.
Despite her frantic and desperate efforts to be reinstated following investigations by the administrative panel of inquiry, the death knell finally sounded for Hadiza in February this year when President Muhammadu Buhari approved Mohammed Bello-Koko's appointment as the substantive managing director for the NPA. With this move, she was by all means done and washed up.
Through Hadiza, the rest of us have learnt that nothing is as dangerous as power with impunity; and she has also proven that nothing predicts future behaviour as much as past impunity. This is her legacy and this is how her stint as the custodian of the Gateway to Nigeria's Economy will be remembered.