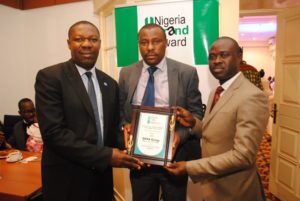 SIFAX Group has won an award at the just concluded 7th edition of the
Nigeria Brand Awards.
The Group is a multinational corporation with diverse interests in maritime, aviation, haulage and logistics, oil and gas and hospitality,
The award is an annual event designed to reward deserving brands that have shown diligence, innovation and excellence in different business areas.
SIFAX Group was awarded the 'Most Innovative and Impactful Shipping and Cargo Company in West Africa' in recognition of its customer-centric focus, innovation and excellent service delivery in the maritime industry.
General Manager, SIFAX Off-Dock Nigeria Limited, Mr. Oliver Omajuwa, who spoke shortly after receiving the award on behalf of the Group, said the award is a validation of the hard work, creativity and commitment that the company's management team and staff have put in over the years.
"The company has worked assiduously over the years to build a company that is reliable, efficient and customer-focused. The company has positioned itself to become a one-stop shop for all transport and logistics services in not just Nigeria and West Africa but all over the world. Our driving force is the desire to surpass the expectations of our client, no matter how high they are", he said
He further noted that the award would spur the company to even work harder in delivering on its brand promise as well as positioning the country as a great force to be reckoned with in the global trade.
Meanwhile, chairman of the awards organising committee, Mr. Mike Samson who spoke earlier, commended the company over its commitment, saying that the SIFAX Group has greatly improved on its service delivery, especially with more efforts being placed on customer satisfaction as well as achieving better brand visibility in recent years.
He said: "This award is in appreciation of the professional prowess of SIFAX Group as a distinguished brand. The company has transited from just being a Nigerian brand into becoming a giant in the West Africa's maritime and logistics business. The presence of the company across the West Coast is a success that deserves to be appreciated".