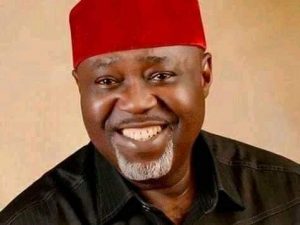 Dr George Moghalu, Managing Director and Chief Executive Officer of the National Inland Waterways Authority, NIWA, is one out of the few Nigerians who 'benefited ' from the late passage of the electoral Act.
This is because the electoral Act currently in force requires that public office holders must quit their respective offices at least three months before seeking to contest an elections. Luckily or unluckily for George , he lost the race for Anambra Government House and yet retained his seat as the Chief Executive Officer at NIWA .But those of us close to George Moghalu know him as a man who hardly gives up .
Moghalu comes from a clan of very successful and accomplished technocrats. His appointment two years ago as helmsman of NIWA, therefore , did not come as a surprise to those who have followed his meteoric rise from his day at the ANPP when he came to political limelight Even though he had no prior knowledge of the Maritime Industry before his appointment, he left no one in doubt that he was prepared to learn. And he did that very quickly and pretty well. What worked out well for him was his disposition towards his staff. He is in every respect a Servant leader and a team player. Because he is not the bossy boss, it was easy for him to win staff confidence and this accounts for his modest success story in just two years in the saddle. But it has not been a smooth sail for this Anambra born politician and administrator par excellence. Top on the controversies which has rocked his tenure is the recurring decimal on the incidents of boat mishaps across the length and breadth of our various tributaries and waterways.
This has earned him criticism from the public on the seeming slow responses to these disasters that have claimed several lives in recent months. How come NIWA was unable to prevent some of these accidents, some stakeholders have asked. Has NIWA lived up to her statutory responsibilities? Where has NIWA failed? Another controversy that has dogged his tenure, even though largely inherited , is the viability or otherwise of River Ports and how secure our inland Waterways have been.
It was in an effort to give credence to his commitment towards an enduring, secure and safer Inland Waterways regime that George Moghalu stormed Lagos last week to unfold NIWA's Maritime Agenda to a select corp of Nigeria's Maritime Journalisys. It was a no hold barred session.
It was vintage George Moghalu who took time to explain the mission and vision of his adminstration . On the recurring incidents of boat mishaps, George Moghalu explained that most boat operators and passengers alike, hardly took safety and security seriously.
He took swipe at the Media whom he blamed for not authenticating their information with Management of NIWA. He was unhappy that this had become the rule other than an exception.
He prayed for a more mutual relationship with the Media if the agency must achieve her set objectives. On surveillance of our Waterways, Moghalu disclosed that management have commenced discussions with a reputable South African company for possible collaboration.
While celebrating the successful concession of the Onitsha River Port, he explained that discussions were underway to concession other River Ports