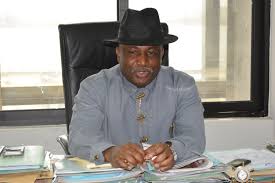 A Maritime expert ,Engr David Omonibeke, has taken a retrospective look at the chequered history of the Agge Seaport Project and concluded that Gov Douye Diri should take the bull by the horn and ensure that the dream of an Agge Port City in Ekeremor Local Government Area is realised.
Engr Omonibeke who spoke exclusively with Shipping World weekend at his Lekki home in Lagos, said the benefits of an Agge Port city are so overwhelming and mouthwatering and therefore, should not be jettisoned or abandoned. Ominibeke, a former Executive Director, Marine and Operations at the Nigerian Ports Authority , said the completion and the likely commencement of Lekki Deep Seaport before the end of this year should serve as huge challenge to the Bayelsa State government . " Successive administrations in Bayelsa State have been tinkering with the Agge deep Seaport project . Don't forget Agge is situated at the mouth of the Atlantic Ocean and could potentially boost the economic fortunes of Bayelsa State, given its proximity to the Brass LNG ' Omonibeke explained that Bayelsa could become the fish basket of the nation if the State government would take advantage of the emerging blue economy by empowering youths to take up training at the College of Oceanography in Lagos and equipping them with Starter kits.
The former NPA Chief explained that having secured a 2015 FEC approval, Gov Douye Diri should immediately set up a Project Committee as well as hire a Local Consultant to fast track the realization of the dream. He said ' I am aware that Gov Douye Diri is very passionate about this project. I have on good authority that His Excellency is desirous of ensuring that the Foundation laying and actual construction work on the site takes off during the life of this administration', he explained. Omonibeke wants the Bayelsa State government to perfect the check list of requirements including a reappraisal of the Environmental Impact Assessment Report following a Survey of the site for the Port City among other requirements.
Investigations by Shipping World magazine revealed that the State Government is already Shopping for prospective investors for the Agge Port City, which could run into billions of dollars.