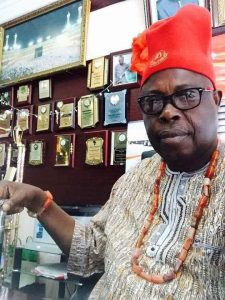 Prince Olayiwola Shittu, immediate past President of the National Association of Nigerian Licensed Customs Agents, ANLCA, is a reporters' delight any day. A respected stakeholder in Nigeria's Maritime Industry, Shittu who is reputed as a mobile encyclopedia of the Maritime Industry , led the most successful tenure as President of ANLCA before bowing out honourably on April 14th, 2018.
Last week, Shittu stormed the Secretariat of the elite Maritime Editors in Festac where he fielded questions on a wide range of issues . On the electronic call up system for trucks introduced by the Nigerian Ports Authority, Shittu posited that the system was founded on a faulty foundation. Shittu reasoned that there wasn't sufficient consultation between the NPA and stakeholders before its implementation.
He explained that the system was dead on arrival and that terminal Operators should be held responsible for the gridlock at Apapa Port for condoning off spaces meant for trucks and container stacking. Shittu is unhappy that Terminal Operators behave as though they were above the law and could do anything and get away with it. The former ANLCA boss blamed management of NPA for entering into a shoddy agreement with Terminal Operators thereby compounding the country's woes.
On the lingering crisis in the ANLCA, Shittu advised the Tony Iju Nwabunike led Presidency to consult widely with past leadership of the Association.