A group of concerned stakeholders in the maritme sector which calls itself The Maritime Advocacy Initiative have threatened to institute a legal action against the Federal Government if the Presidency failed to reverse what it called an attempt to elongate the tenure Hadiza Bala Usman through the back door.
The 5 year tenure of Hadiza Bala Usman as Managing Director of Nigeria Ports Authority would expire in June The group said in a statement in Lagos obtained exclusively by Shipping World that whereas Mr President reserves the right to appoint anyone of his choice into a public office as enshrined in the 1999 constitution as ammended, renewing her tenure five months before its expiration makes the exercise of that power a nullity. Spokesman for the group, Capt Ishola Kehinde asked rhetorically in the statement, " what is this the reason behind this premature action? Why did Mr President not wait until June when her tenure would expire? Presidential spokesman, Femi Adesina, had last thursday in a statement in Abuja announced the reapportionment of Hadiza Bala Usman for 5years, that would make her the longest serving Chief Executive Officer at the NPA .The statement further explained that President Muhammadu Buhari had also approved the reconstitution of a new board headed by General Emmanuel Abisoye rtd. Gen Abisoye was until March last year the Chairman of the NPA Board before its dissolution.
A maritime lawyer who spoke exclusively with Shipping World on tenure elongation dispelled insinuations that Mr President breached the Constitution by passing the Minister of Transportation, Rotimi Amaechi. Said he " The law is very clear on this. The Nigerian Ports Authority Act , 1954 is silent on the powers of Minister of Transportation to recommend to the President a candidate for appointment as Managing Director or for tenure renewal. As an appointee of the President, the Minister of Transportation lacks the locus standi to claim that his position was usurped " , he said.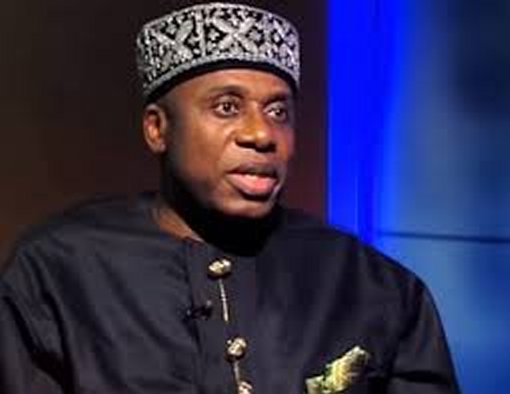 Our source who preferred to speak on condition of anonymity said the Minister of Transportation or any aggrieved party can only go to court based on the validity of a renewal five months before the expiration of her tenure as Managing Director, Nigerian Ports Authority. He explained that in the eye of the law, her reappointment as Managing Director, five months before its expiration is however premature, that means it is null and void.
The Maritime Advocacy initiative insists it would seek legal action to ensure that the appointment was reversed. Said Kehind Ishola, the group's spokesman, " why is Mr President in such a error when other public officers such as the IGP, the Chief Service Chiefs and National Security Adviser whose tenures expired long ago are not in Mr President's reckoning? Unconfirmed reports have fingered former Head State, Abdulsalami Abubakar as the Chief mastermind of the deal which returned Gen Adesoye as Chairman of the NPA Board . Usually dependable sources told our correspondent that Hadiza Bala Usman personally requested for Gen Adesoye to be returned following months of irreconcilable differences with the outgoing Chairman, Chief Ricketts Akinwumi .
It was learnt that out of respect for Gen Abdulsalam Abubakar, Mr President caved in and allowed Hadiza Bala Usman have her way. This development , it was learnt, came as a huge surprise to Transportation Minister , Rotimi Amaechi who was not in the picture until the matter became public knowledge. Besides, the premature tenure elongation would also come as huge cost to the current board members who may be unwilling to take up any " fight" against the Managing Director.
Said a public commentator who spoke on condition of anonymity. " Now, for every board member including the Chairman, the fear of Hadiza Bala Usman, is the beginning of wisdom. You may call the newly constituted members hercrubber stamp Board and you wont be wrong" , he concluded.
The outgone Board Chairman had been engaged in a running battle over the way and manner Hadiza runs the Agency . She has variously been accused of several infractions including but not limited to ; contact splitting, over invoicing, arbitrariness, nepotism, lopsided recruitments and promotion, over invoicing of contracts, high handedness among others.
She was also under fire recently for supplying Chinese made buses in place about 20 Toyota buses . These buses miraculously got burnt during the ENDSARS protests raising questions about an insider's plot.
Below are highlights of the many sins of Hadiza Bala Usman;
Alleged Corrupt Practices
* Cancelling running stevedoring contracts and awarding same to self and acolytes for 10 years;
* Corporate Social Responsibility (CSR) projects that are supposed to serve as Palliatives for communities impacted by port operations , she has turned into a jamboree and avenue for indiscriminate award of inflated contracts at all locations, especially in the North
* The Palliatives intended to assist Internally Displaced Persons turned into an avenue for contract awards at exhorbitant cost.
* PBT approved the purchase of Toyota Coaster staff buses but chinese made buses were supplied. Ditto for ambulances;
* Most contracts in NPA allegedly being awarded to her brother( name withheld)through many phony companies and other fronts;
* Generally, over invoicing and inflation of contracts and non compliance with the provisions of the Public Procurement Act and extant regulations on pricing.
*. There was a contract that was recently awarded for the supply of 200 torchlights for 8m.
MALADMINISTRATION
* Serving corps members were employed in NPA which is against the law and service rules;
* Fresh graduates were employed and promoted to one or two grade levels within two years in contravention of NPA Conditions of service and other civil service rules
* Misleading the Board into approving promotions for select officers over their seniors through improper placement and promotion in contravention of Federal Government circular referenced FC.6243/S.1/Vol.XV111/5 of 28th May, 2010 and the Presidential Directive conveyed vide letter referenced PRES/30-1 dated 20th September, 2004.
As clarified and reiterated by circular referenced FCSC/CHMN/CL/17/Vol.1/36 of 22nd October, 2013 which conveys the applicable policy as at today;
* Misleading the Board to approve the retention of officers who retired on contract without the fulfilment of the prerequisites for that kind of appointment under the conditions of service and extant Service rules.
HIGH HANDEDNESS
* Auditors have been transferred for simply questioning and querying supplies being made by contractors, particularly with regards to quantity, quality and conformity with the approved standards by the PTB as reflected in the Letters of Award .