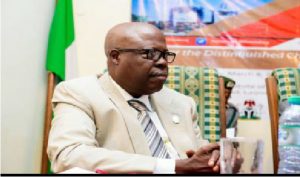 Encomiums and goodwill messages have continued to flood the Corporate Head Offices of SKELAS GROUP, FESTAC ,as Prince Olayiwola Shittu, the Group CEO clocks 70 years. One of such messages came from Engr Abass Yakubu. In the message, Engr Yakubu extalled the sterling leadership qualities of Prince Shittu describing as a role model par excellence.
He said:  "I heartly rejoice and celebrate with our dear father Prince (Alh) Shittu Olayiwola MD/CEO Skelas Ltd.
Alhaji Shittu Olayiwola, a worthy and noble ambassador of Igboho, in Oyo State, was the immediate past president of the Association of Nigerian Licensed Custom Agent (ANLCA), and also a council member at the Council for the Regulation of Freight Forwarding in Nigeria (CRFFN), where he served as Publicity Committee Chair .
Alhaji Shittu, has become an enigma who has served in various capacities, He's one time Senior Official of the Nigerian Ports Authority (NPA), Fellow Certified Institute Of Shipping (FCIS), Also a Fellow Institute Of Freight Forwarding in Nigeria
(FIFFN).
"As a very committed and dedicated man, his commitment, dedication and strive for greatness saw him through to became a Member of Presidential Committee on Ports Reform (2011).
" Prince Olayiwola, is a very resourceful, administrator, a worthy and illustrious son of Oke Ogun, The pride of the ancient city of old Oyo empire, Igboho.
He is hardworking,a great philanthropist and his humanitarian services has earned him so many merit awards from different bodies/groups and societies. The Maritime Reporters Association of Nigeria (MRAN), honored him with a Maritime Merit Award on the 17th of November 2005.
He was given an Award of the Living Legend of the Maritime Industry in year 2010 by the Maritime Media.
He was given the "Vocational Merit Award" By the Rotary Club Of Festac Town, in recognition of his contributions to Vocational development in the year 2010.
He was awarded as Patron by Nigerian Academic Achievement Recognition Foundation, which reside in San Antonio, Texas in USA.
No amount of eulogy, accolades or encomium, i use in expressing my thoughts about this personage personality, Alhaji Shittu Olayiwola, would be enough, for he's a man with a midas touch, who has registered the name of our community, Igboho, Oke Ogun on the global map in the clearing and forwarding business.
"Today, as you join the league of septuagenarians, no doubt you are a respected elder statesman and a resourceful and great Philanthropist.
I pray God should raise more men of substance like you, and continue strenghtening you, grant all your heart desires and expectations.
May you to continue to be a blessing that you are, and a point of reference and celebrated achiever in your chosen career.
Happy Birthday Baba Shittu Olayiwola, the statement concluded