OPENING ADDRESS BY MR. GREG OGBEIFUN PRESIDENT, SHIPOWNERS ASSOCIATION OF NIGERIA (SOAN)
ON THE OCCASION OF THE ALL SHIPOWNERS WORKSHOP AND DINNER
PROTOCOL- RECOGNITIONS
The events at the recent International Maritime Organization (IMO) elections into Category C of the Council where Nigeria lost and actually came second to the last position underscores the importance and urgency of the theme of this end of year Workshop and Dinner "Giving a Critical Lifeline to the Nigerian Maritime Industry".
Our performance at that election has dealt a hard blow on our psyche as a maritime nation. The world has told us that our maritime domain is sick and almost moribund, that we are not a maritime nation that can be relied on for maritime trade, maritime security, maritime infrastructure or for seafarers and other maritime professionals. We have ignorantly believed that to win election into the IMO Council is by political lobbying, flaunting our economic influence by reason of our vast natural resources which we have failed to appropriately harness to impact the lives and fortunes of our vast population.
We will be deceiving ourselves if we pretend not to know that the IMO and the rest of the world are aware of the following:
1 That our maritime domain has remained a high security risk and is most unsafe for seaborne trade and activities vis: piracy, hostage taking, kidnapping and poor navigational aids. This is evident as the International Maritime Bureau's (IMB) annual piracy report 2016 shows that Nigeria recorded the second highest number of actual and attempted pirate attacks in that year after Indonesia with a total of 36 attacks in the year, constituting about 18% of the total 191 pirate attacks that happened all around the world. This statistics further shows that of the 36 attacks; 17 of the ships were boarded, 1 hijacked, 9 fired upon and 9 attempted. This is an information that the whole world has access to and are aware of. We can see what a terrible reputation our Maritime Industry has in the eyes of the world with respect to security.
2. That twenty-two (22) years after the demise of the Nigerian National Shipping Line (NNSL) we have not been able to midwife the emergence of a Nigerian fleet, be it a public fleet, private fleet or fleet resulting from Public Private Partnership. This is despite the fact that ninety-two percent (92%) of all import/export cargo in and out of our country is via seaborne trade.
3. That our flag administration is extremely weak such that the Nigerian Liquefied Natural Gas (NLNG) which owns a large fleet trading worldwide is unable to register their ships in the Nigerian flag and boost our tonnage. Instead, they have all their ships registered in foreign Flags of Convenience. NLNG actually approached our flag administration to express their desire and preference to register all her ships in Nigeria if the flag administration can be enhanced and reorganized to meet international standards. They went further and paid for a Consultant to carry out a study of our Flag Administration and make recommendations to achieve this objective. The report and recommendations have been awaiting implementation by the Maritime Administration since then, over three years ago.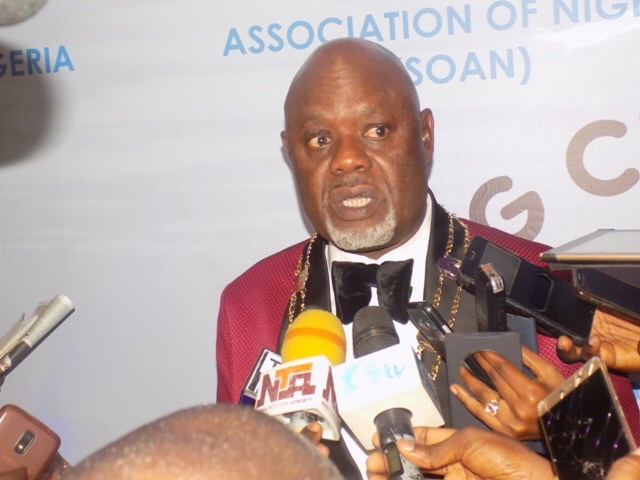 4. That the Honourable Minister of Transportation on assumption of office and with promptings from stakeholders, set up a Committee to study and make recommendations for the revamping and restructuring of our flag administration to make it more attractive for international patronage. A team of sound professionals worked assiduously to produce a comprehensive report and recommendations to achieve the objective but there has not been the political will to implement the recommendations of their report.
5. That our own Maritime Administration, instead of engaging and collaborating with stakeholders, shipowners, shiprepairers and Maritime Security providers to grow the Industry, they only specialize in collecting levies and revenues and meting out punitive measures on these stakeholders such as arrests, threats and shutdown of ship repair yards with the accompanying consequences to the Industry which the International Maritime Communities and the IMO are observing.
6. That our Maritime Administration is spending and squandering huge sums of money developing other nation's maritime industries and institutions at the expense of ours by sending young Nigerian's to various institutions round the world for incomplete training as seafarers as their training overseas has not included the much needed sea time because there are no ships for them to sail on. This is in spite of the fact that we have our own Maritime Academy of Nigeria, Oron largely funded by NIMASA by reason of the ACT establishing her but sadly, not one single Cadet has ever been sponsored at our maritime school by NIMASA. The Nigeria Seafarers Development Programme (NSDP) has had over 2500 Nigerians sent abroad to various countries. Over a thousand of them have completed the academic aspect of their program but only a few have fully completed their entire maritime program as there are still over a thousand of them who are yet to get their required sea time which is an integral part to complete the entire program.
7. That the tonnage of our Cabotage fleet has diminished considerably due to the collapse of the price of oil worldwide in the last couple of years. The consequence on our Cabotage fleet is that the IOC's who are the charterers of these vessels, with directive from our own Government agencies NNPC and NAPIMS now reduced charter rates by up to 20-25% in some cases. The consequence of this is that most vessel owners were no longer able to meet their obligations to the financing banks and in most cases had to go under or have their vessels repossessed by the banks leading to loss of jobs, training opportunities and failed businesses.
This is despite the fact that these vessel owners contribute 2% of their contract values to the infamous CVFF, a fund meant to finance and grow the Cabotage fleet, a fund that has accumulated several hundreds of millions of dollars but has never financed one single vessel since its inception over 10 years ago. Most shipowners approached the Maritime Administration who warehouses the CVFF to intervene by refinancing the more expensive commercial bank loans for lower interest Cabotage Fund. Up till now, there has been no response from the Maritime Administration. If the CVFF had been used to intervene in the situation shipowners found themselves in, our tonnage would have grown or at worst been sustained.
The Chairman of the House Committee on Maritime Safety, Education and Administration, Honourable Mohammed Umar Bago recently in October stated that Nigeria has over 100 Billion Naira in the CVFF account and you can imagine that we have so much money which could have been used to support shipowners sustain and grow their fleet.
8 That our Maritime Administration has now gone into the business of acquiring a floating dock without a clear objective of what to do with it despite the need to support and grow existing shipyards in the country. A large number of the vessels in our maritime domain leave the country to foreign countries for their docking and ship repair needs.
9 That foreign vessels which do not meet the requirements of our Cabotage Act continue to dominate our waters at the expense of Nigerian registered vessels simply because of compromises by persons in public positions who should otherwise be protecting our Cabotage trade.
10 That our Government has failed to review our tax laws and policies with a view to enhancing the growth of our Maritime Industry as is done in other maritime climes.
Ladies and Gentlemen, we must come to terms with the reality that everything happening in our nation as far as Maritime is concerned is closely being monitored by the international maritime communities and the IMO. The time has come for our nation to face the reality on ground and take some drastic measures to assure them that we are determined to turn around our Industry to meet international maritime standards and expectations. We need to evaluate the people who have been appointed into positions to deliver their expected mandate and where possible, take out non-performing persons and appoint more eligible and knowledgeable persons to turn things around for our Industry.
It is in view of the issues I have raised that the Shipowners Association of Nigeria at this end of year workshop and dinner decided to assemble these erudite speakers to do justice to the theme of this workshop at the end of which our country's Maritime Industry may have a roadmap of critical lifeline that would save the dying industry.
Thank you for listening and God bless you all.
Greg Ogbeifun
President, Shipowners Association of Nigeria (SOAN)