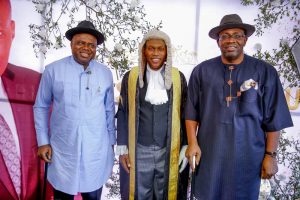 Bayelsa State Governor, Senator Douye Diri, has described Barr. Kemasuode Wodu as a 'homegrown' Senior Advocate of Nigeria (SAN).
Wodu, a former Attorney-General and Commissioner for Justice in the state, is among 72 legal practitioners in the country conferred with the rank of Senior Advocate of Nigeria in Abuja on Wednesday.
Speaking at a reception in his honour in Abuja, Governor Diri said he had always referred to Wodu as a SAN in waiting.
The Bayelsa chief executive noted that unlike other SANs the state had produced, Wodu largely practised in Bayelsa and Rivers states and showed that he also had the qualities for the exalted rank.
He said: "At 25, Bayelsa has now produced five SANs. One is however late.
"I had always called Wodu a SAN in waiting. But I see him as a homegrown SAN. Of the five SANs the state has produced, he is the only one living that practised largely in Bayelsa and Rivers. If you x-ray all of them, including the current Attorney-General that I call a Lagos SAN even though he is from the state, Wodu appears to be the homegrown among them.
"I thank God that this day eventually came. I also thank all those that started this SAN journey of Wodu, including my predecessor in office, Senator Seriake Dickson, the Chief Judge of the state, Justice Kate Abiri, and all those who believe in the development and prosperity of our state.
"We believe that we have what it takes to compete with any other state. I'm of the opinion that the fish we eat also adds to the intelligence of the Bayelsa and Ijaw people generally.
"From all the attestations here, Wodu clearly has all it takes to attain this rank. He has worked very hard and waited patiently for this day. It is however not when you want it to come as it actually comes at God's time. I therefore congratulate you on behalf of the government and people of your state."
In his remarks, former Bayelsa governor, Senator Seriake Dickson, described Wodu as a focused Ijaw intellectual and activist.
Senator Dickson recalled how as friends and legal practitioners in Port Harcourt, the journey towards becoming a SAN began for Wodu, expressing joy that it eventually came.
He said he appointed Wodu into government due to his forthrightness and the qualities he saw in him, adding that the former Commissioner for Justice has made outstanding contributions to the development of law and implementation of legal policies.
Responding, Barr. Kemasuode Wodu appreciated all those that worked and supported him on the project towards becoming a SAN.
He commended Senator Dickson for the visionary steps he took in making it a reality.
"It was like he (Dickson) wanted it more for me than I did. At all points in time, he kept pushing me," he said.
The former Attorney-General disclosed that he rejected offers in public service twice but that as a friend, when the former governor approached him to join his government, he accepted and served first as Special Adviser on Legal Matters before becoming Commissioner for Justice.
Wodu recalled that because of the importance he attached to the SAN rank, he resigned after six months as Special Adviser on Legal Matters. He said the former governor, however, later appointed him as commissioner in his second term and that the platform paved a way for him to attain the new title.
He also commended the state Chief Judge, Justice Abiri, for the role she played as well as a retired Supreme Court jurist, Justice Francis Tabai, who is now king of Tuomo Kingdom in Delta State, for writing his first recommendation letter that enabled him to practise at a law firm.
Wodu urged legal practitioners in the state to close ranks and support themselves in order to be able to produce more SANs.
"The rank of SAN is very important. They are only about 0.4 per cent of the total number of lawyers in Nigeria but they handle the biggest part of the legal briefs available. So, we need to come back home to support our people that are in the profession for them to be able to have the qualifications for the rank."
The event, which was attended by his mother, was also graced by several dignitaries including the
Sagbama/Ekeremor Federal Constituency representative in the House of Reps, Dr. Fred Agbedi, Speaker, Bayelsa State House of Assembly, Abraham Ingobere, and the Chief Judge, Justice Kate Abiri.
Others were the first Military Governor of old Rivers State and Amanyanabo of Twon-Brass, King Alfred Diete-Spiff and his Queen, HRH Justice Francis Tabai, elder statesman and Ijaw national leader, Chief E.K. Clark (represented by Amb. Boladei Igali), legal luminaries among others.