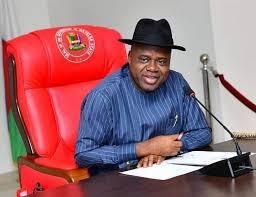 Bayelsa State Governor, Senator Douye Diri, has said the state needs the assistance of the federal government and relevant stakeholders to construct the Bayelsa East Senatorial road from Nembe to Brass given the huge cost involved.
Speaking during the weekly state executive council meeting in Government House, Yenagoa, Senator Diri said as part of efforts to make the road a reality, he has met senior federal government officials in Abuja, whom he said responded positively to the state's requests.
A statement by his Chief Press Secretary, Mr. Daniel Alabrah, quoted the governor as saying the importance of the Bayelsa East senatorial road cannot be over-emphasised given the socio-economic relevance of the area to people of the state and the country.
He said all hands needed to be on deck to make the project a reality.
Governor Diri remarked that relying on the Presidential Executive Order 7, the federal government embarked on construction of certain road projects with private organisations in parts of the country and appealed that same gesture be extended to Bayelsa.
He said written presentations have been made to the federal government and the Nigerian Agip Oil Company (NAOC) to ensure that the taxes that would have been paid by Agip and others to the state are used for construction of the Nembe-Brass road.
He assured that the state government was ready to play its part to ensure that the road was constructed and called on Bayelsa legislators at the federal level to support the move in the interest of the state and country.
His words: "The Federal Government out of Presidential Executive Order 7 is constructing a road alongside some private companies in the case of the Nigerian Liquified Natural Gas project in Rivers State. Federal Government is also doing same in the western axis in Lagos and other areas. So we are appealing to the Federal Government to extend same gesture to us.
"As a government, we are prepared to also bring in whatever is our deal into the project. So, on your behalf, I went to Abuja to meet with very senior officials of the Federal Government and I can report to you that they received us very well. If all our requests are granted, from next year we can kickstart the Brass road project.
"I want to use the opportunity to call on all well-meaning Bayelsans from all walks of life to support this noble idea by this government, particularly those who are representing us at the federal level. Please speak on behalf of the people of your state."
Diri emphasised that the doors of the state government would remain open for constant consultations with relevant stakeholders, particularly the oil companies operating in the Bayelsa East Senatorial District until the road is constructed.